Open Enrolment in Nursery and Primary School
Open Enrolment in Nursery and Primary School
13 December 2018 (by Roisin (Roisin))
The application process is from Wednesday 2nd January 2019 at 10.00am to Thursday 31 January 2019.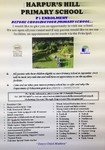 This year Open Enrolment in Nursery and Primary School is online and applications for admission to Pre-School and Primary One will open on (midnight). Please see me if you require any support completing the forms. Hard copies will also be available from the school in January.
Harpur's Hill PS doesn't have an open day, but if you wish to view the school please contact the principal or secretary and we will arrange for you to view the school and see the excellent facilities we have on offer at a time that suits both parties.
Nursery – children born on or between 2nd July 2015 and 1st July 2016
Primary – any child whose 4th birthday falls on or before 1st July 2019